Learn hoop dance from the best in H-town!
Beginner ~ Intermediate Hoop Dance
​
This upbeat, aerobic workout blends the invigoration of cardio with a mind-body connection while improving balance, flexibility and core strength. We will hoop at the waist, hips and off the body while moving and dancing with the hoop. No prior hula hooping experience needed. Just come ready to have fun!
---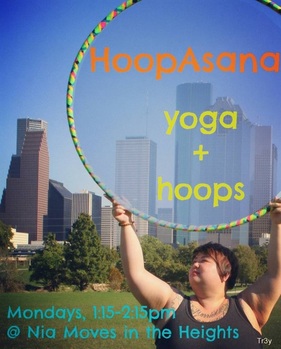 HoopAsana
​HoopAsana is yoga + hoop classes focused around body-positivity, self-awareness, and being present in your body.
Perfect for all levels of experience, yoga/hoop classes are designed to adapt to your needs.
Hoops allow for more fluid movement during Hatha yoga classes, helps to create better alignment , and provides gentle support during balance poses. And since your hoop is one of your best friends, why not take a yoga class with your hoop?
---
---
What our clients are saying...

"Madison made an incredible impact on my kids in a short amount of time. Their hooping skills greatly improved and their confidence soared. Hoop camp over the holidays was a wonderful experience." -

Cheryl
Copyright © 2008-2017 NiaMoves - ALL RIGHTS RESERVED