​NEW STUDENT SPECIAL
​Welcome to NiaMoves! We have an introductory special for first time Houston Clients! '

Your first class is only $10! And you can take any Nia, Yoga, Belly Dance I, HoopAsana, Doonya, Zumba, POUND, or Chakra Body Dance classes! We appreciate you registering online for your first class, which saves you time filling out a waiver when you arrive at the studio.

The following Price is effective August 1, 2017.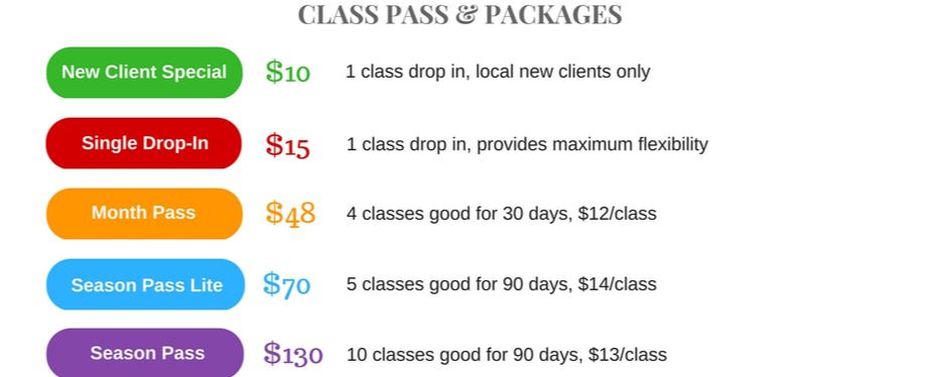 MEMBERSHIP - 30 DAY AUTO-PAY / AUTO-RENEWAL

As a Gold, Silver or Bronze member, you won't have to worry about keeping track of your classes. Let us take the guess work out of paying for classes with auto pay! With your authorization, we will charge your credit card monthly. As a Gold, Silver or Bronze member, you have 30 days in which to use the number of classes in your package. Unused classes expire. If you use up your classes before the month ends, the membership will be automatically renewed and the expiration date will reset to 30 days after.

To become a Gold, Silver or Bronze member, simply ask one of our friendly deskguides and complete and sign an auto-pay authorization form good for six months. An information sheet will provide details of the membership program.

​Gold, Silver and Bronze membership levels represent the most economical options per class. NiaMoves is happy to extend this low rate in exchange for your sustained support and confidence in our ability to serve you.

MEMBERSHIP BENEFIT & DETAILS
Access to classes includes Nia, Yoga, Chakra Body Dance, Belly Dance I, Zumba, POUND and Doonya.
• pass will auto renew to your credit card after the classes are used or 30 days, whichever comes first
• take as many classes as you like, the pass will continue to auto-renew when the class count is 0
• six-month minimum commitment on credit card with a month's written notice to end auto-pay
• 10% discount for students and seniors
• pass can be shared with family members with the Family Share Plan
• $10 Single Class for Out-of-Town Guests
• discount to workshops